Sunchild je projekt ukrajinského skladatele, hudebníka, multiinstrumentalisty, producenta Antonyho Kalugina, ukrajinského zástupce progresivního a art-rocku, který je mimo jiné zakladatelem dalších kapel Karfagen a Hoggwash. Hudebně se jedná silnou dávku klasického prog-rocku 70. let a zároveň i neo-progu s moderním zvukem, vypracovanými aranžemi a nezvyklými nástroji. Sunchild ve srovnání s Karfagen tvoří převážně vokály jako součást hudebních děl - anglicky zpívané písně v neo-progresivním rockovém stylu. Na albech se podielejí velmi kvalitní muzikanti a několik doprovodných zpěváků.

Sunchild je symbol nevinnosti, dětství, které žije uvnitř každého z nás všech bez ohledu na věk, ve kterém jsme už dospělí nebo starší, je vždy v nás.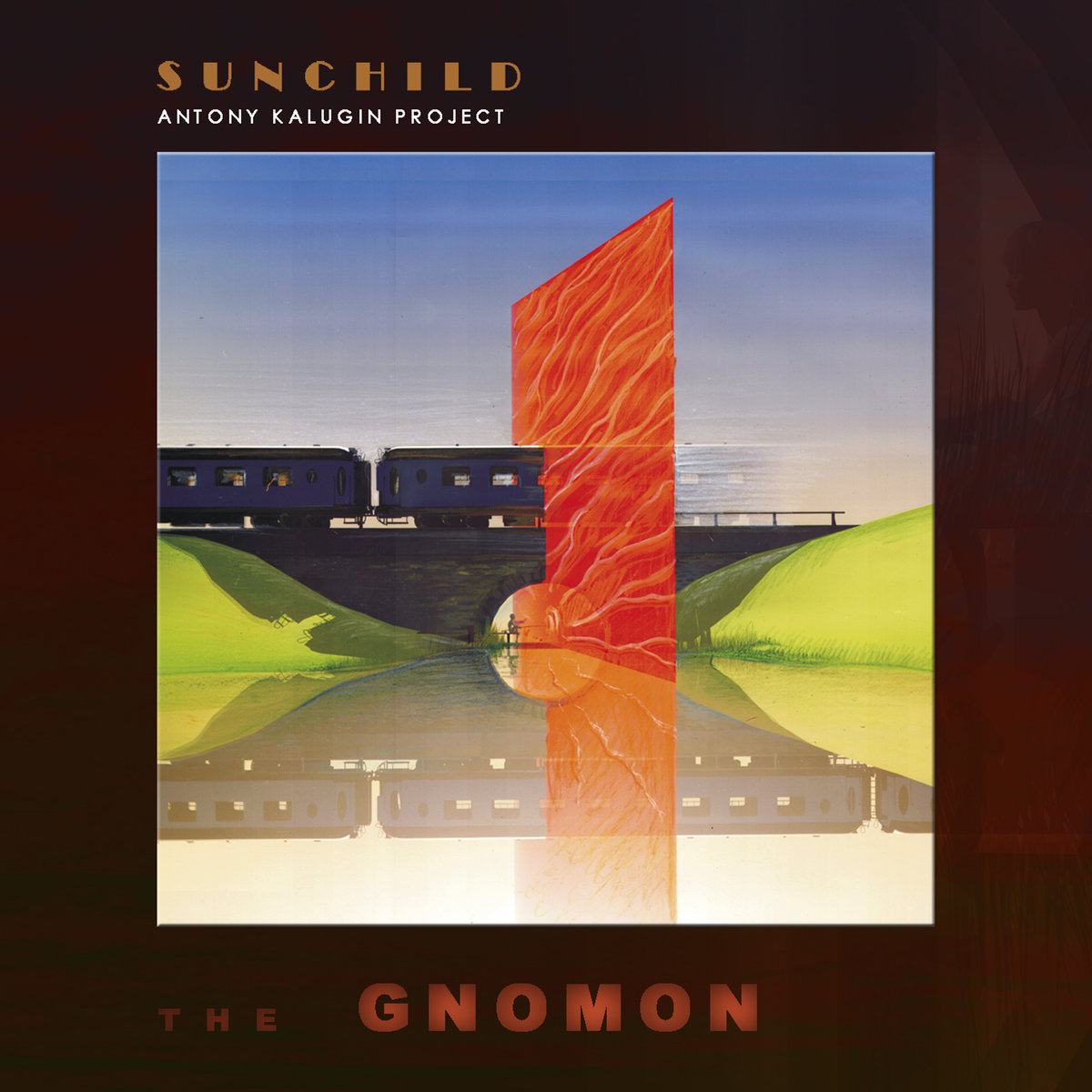 Ohromili hned svým první dvojalbem "The Gnomon" vydaném v roce 2008. Jedná se o koncepční dílo v neo-progovém stylu, které lze porovnat s nejlepšími představiteli tohoto stylu jako jsou The Flower Kings, IQ, Pendragon a Marillion. První skladba "Gnomon" byla na počátku a později dala název i celému albu. Zlatá rytmická sekce se stala ochrannou známkou Sunchild, a to v podání bubeníka Sergeje Balalaeva a funkčního, univerzálního basisty Kostyi Ionenko. Album na poměrně široké ploše nabídlo i skvělé muzikantské výkony a melodické linky.

Vrcholnou lahůdkou byla účast několika kytaristů jako Vlad Annekov, Aleksey Khorolskiy, Roman Filonenko, Roman Goloborda a také Roman Gorielov - romantická osobnost, jehož akustická kytara se objevila i v pozdějších albech Sunchild. Předvedlo se rovněž s žesťovou a smyčcovou sekcí zpodobně jako nejlepší prog-rockové kapely 70. let jako jsou Chicago a Frank Zappa. Bayan a doprovodný zpěv Sergeje Kovaleva, který také hraje také důležitou roli na albu "Alicatorica" od Karfagen, přináší na album autentickou příchuť.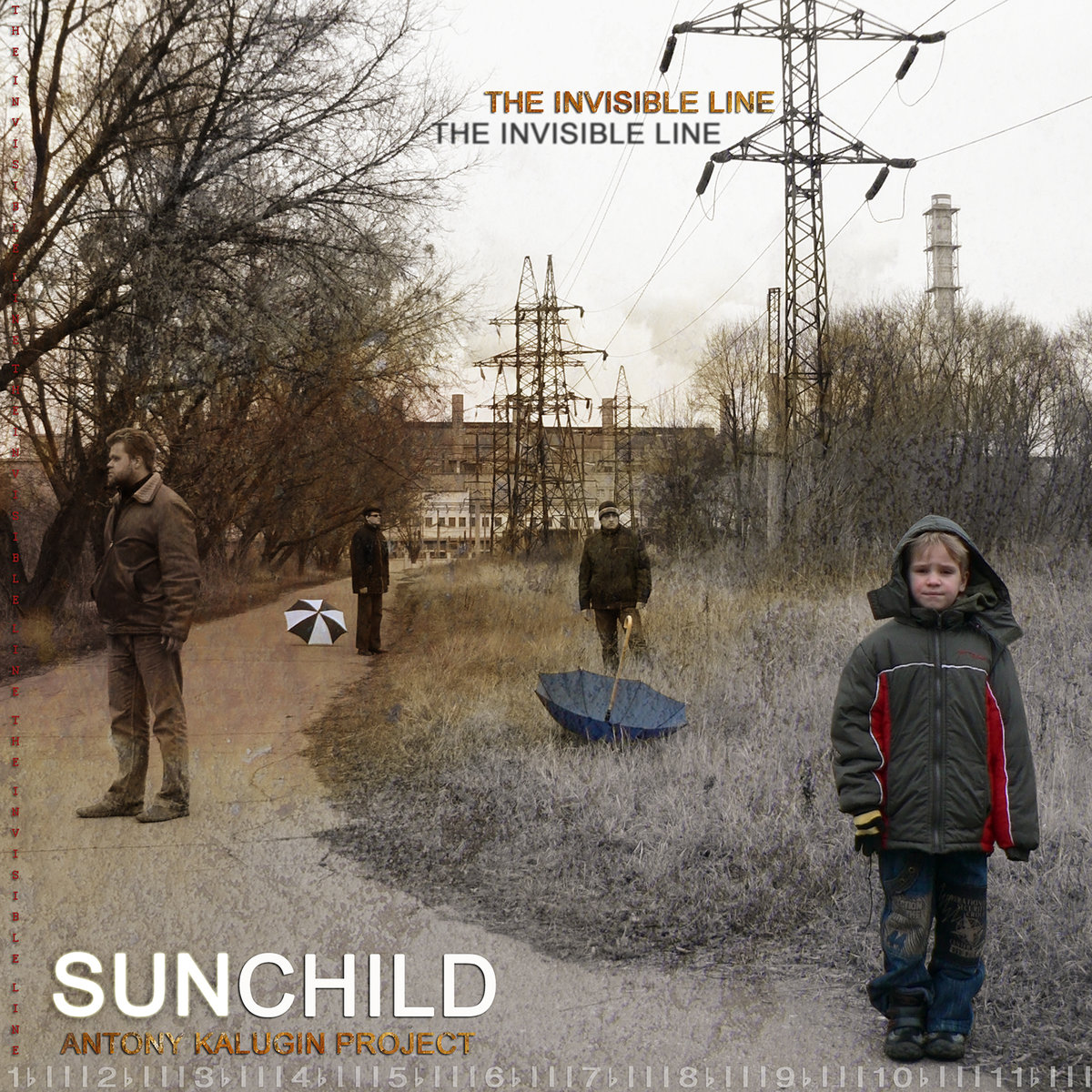 Druhé album "The Invisible Line" vyšlo v roce 2009 za účasti dalších kytaristů Bogdan Gembik, Aleksey Khorolskiy a Roman Gorielov. Album je rovněž plné dechových nástrojů jako jsou trumpeta, hoboj, flétna nebo fagot. K dispozici je také bandura a autentický zpěv Olgy Koganiuk (na bonusové skladbě).

"The Wrap", třetí album Sunchild vyšlo v roce 2010. Titulní skladba, instrumentálka "The Wrap" představuje ústřední melodickou a dějovou linii alba. Od té doby začal Antony spolupracovat s hudebníkem a kytaristou Maksymem Velychkem, který projevil talent ve všech stylech od flamenca až po jazz-rock.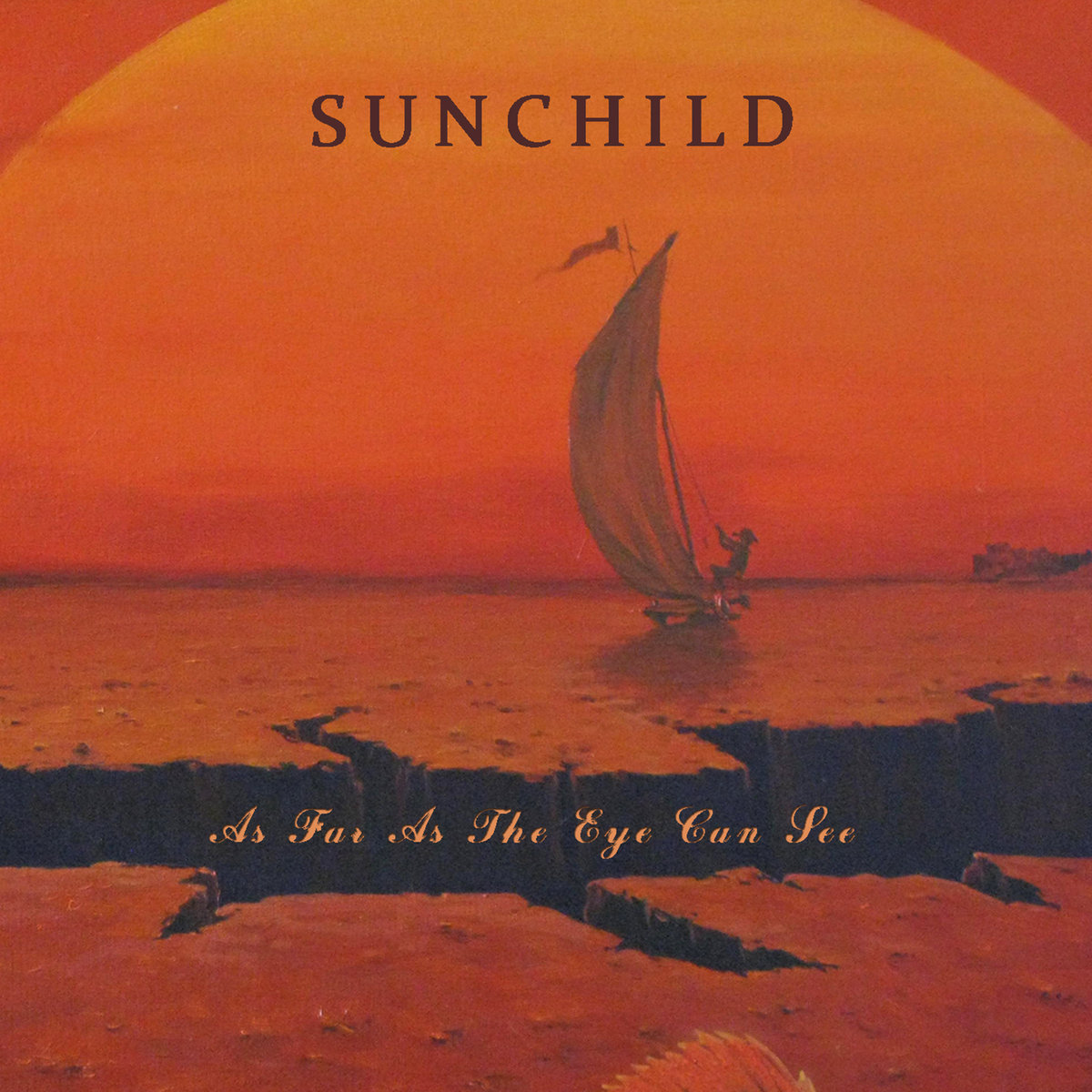 V roce 2011 vyšlo čtvrté album "As Far As The Eye Can See" (Tak daleko, kam oko dohlédne). Úvodní skladba "Stars Of Cardiff Bay" je sama o sobě téměř muzikál. Zde zpěváci, poprvé i ženský vokál, ukazují širokou škálu melodií a sborů s chytrým hudebním aranžmá: Antony Kalugin, Sergey Kovalev, Victoria Osmachko a Olga Vodolazhskaya - jejichž vokální dovednosti fanoušci srovnávají s britskou zpěvačkou Kate Bush. Kytar se zhostili Andrey Kobylyanskiy a jako host Roberto Diaz, hudebník, leader a kytarista progresivní rockové skupiny Anima Mundi (Kuba).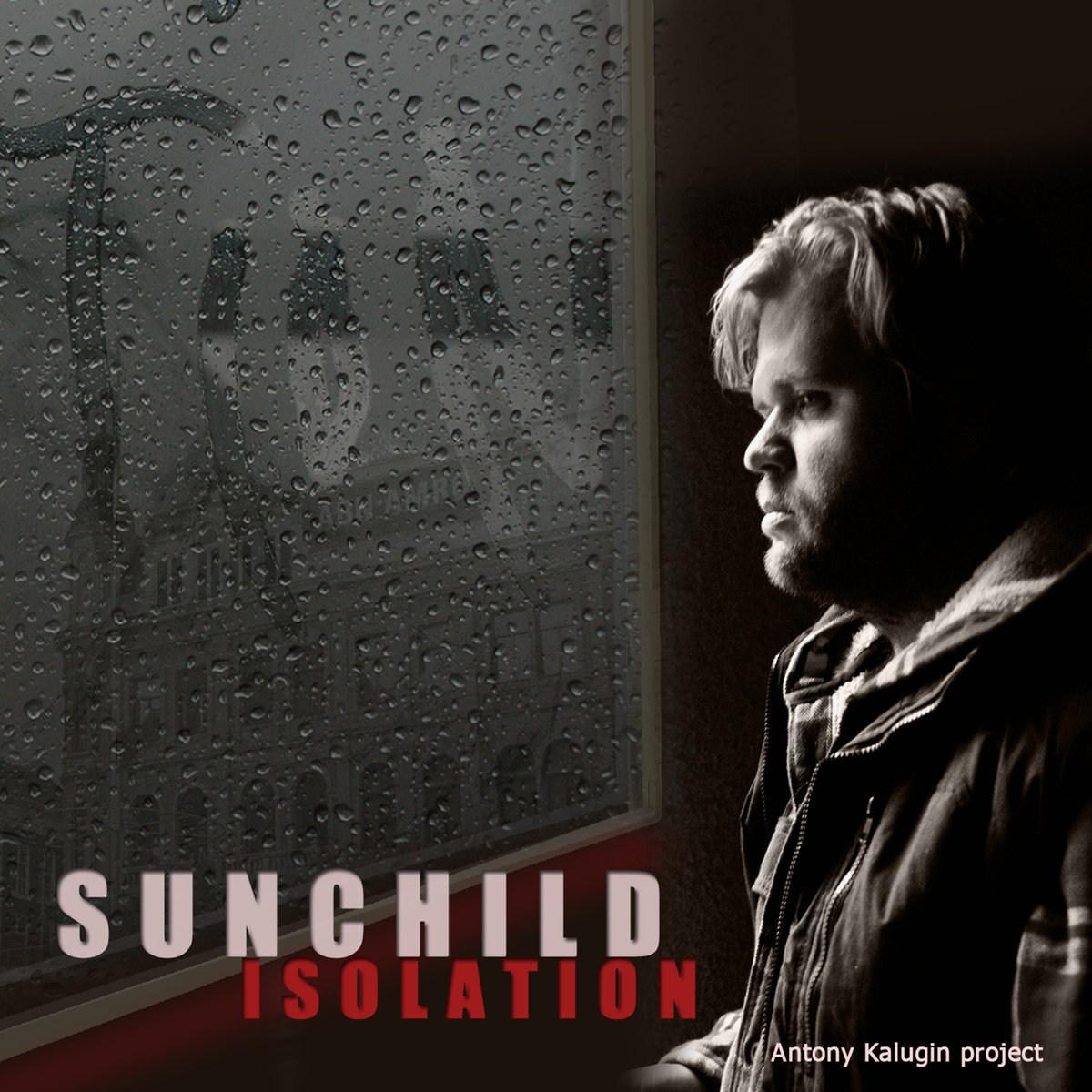 Páté studiové album Sunchild "Isolation" z roku 2012 je minimalističtější a střídné v instrumentaci. Hlavním konceptem je problematika izolace lidí i v "přeplněných prostorech". Ve zpěvu se střídají Antony Kalugin, Evgenij Linkov, Sergey Kovalev a Viktoria Osmachko. Na nahrávce se představila i dětská vokální skupinu Bon Virage z Charkova. Album "Isolation" je rovněž charakteristické kromě nezaměnitelných melodií i vetším využíváním elektronických prvků.

V roce 2015 vyšla kompilace největších hitů "Sunchild & Hoggwash: Gnomology" se skladbami od Sunchild's Live 2012 a písněmi dalšího projektu Hoggwash.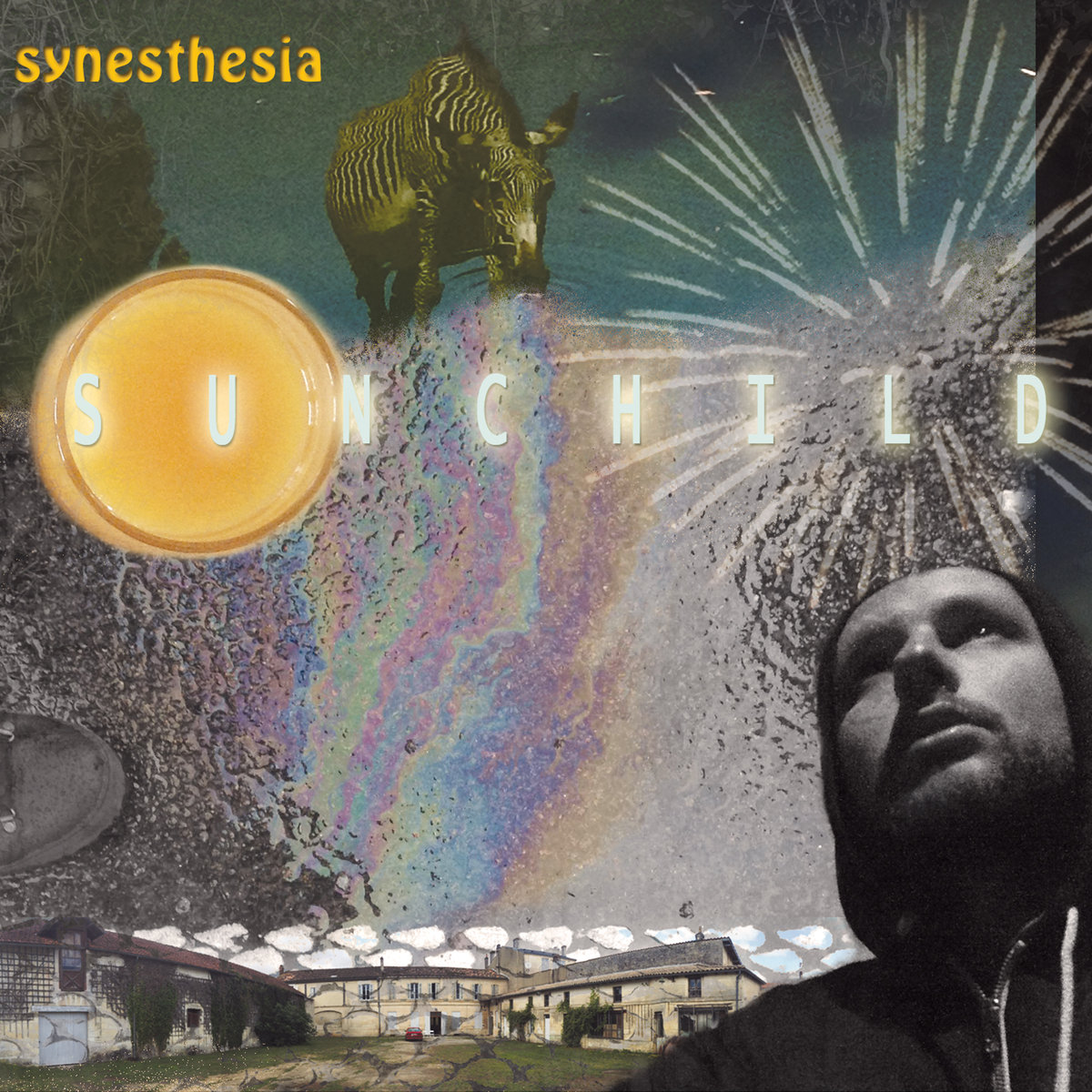 V témže roce vyšlo i šesté studiové album "Synesthesia" s moderními hudebními tóny. Na vokálech se střídali John Slipper, Antony Kalugin a jako host i kanadská známá zpěvačka Sylvain Aucler.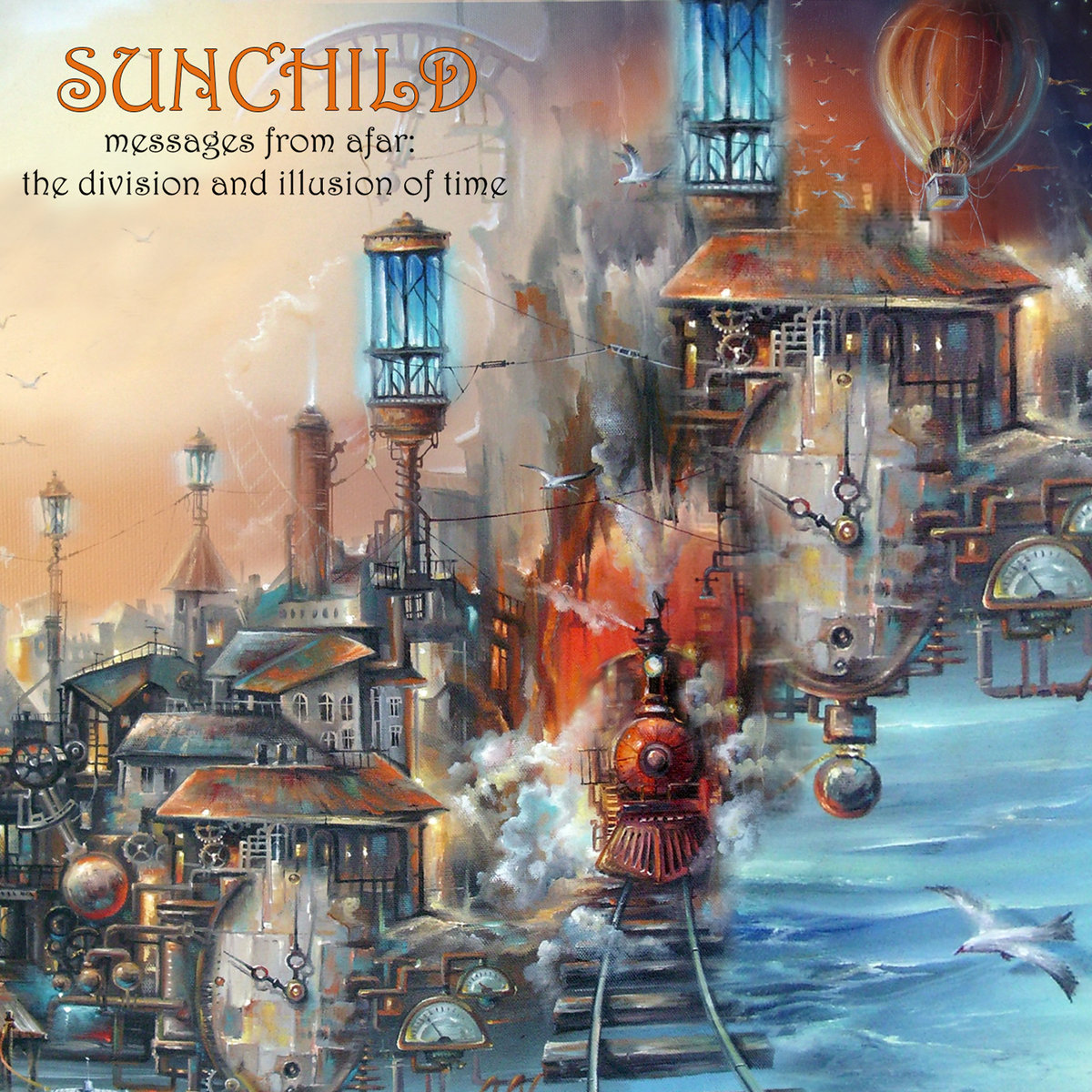 Za tím poslední osmé album s předlouhým názvem "Messages From Afar - The Division And Illusion Of Time" vyšlo v roce 2018. Jedná se v podstatě o druhou desku dvojalba vydaného samostatně, neboť první část této dvojdesky vyšla pod hlavičkou kapely Karfagen již v roce 2017 pod názvem "Messages From Afar - First Contact". Kalugin píše spoustu materiálu a používá více skladeb určených pro Sunchild a zbytek pro Karfagenem. Äby to bylo ještě více matoucí, kromě saxofonisty Michaile Sidorenka jsou do tohoto alba zapojeni všichni členové Karfagen, kteří hráli na prvním albu "Messages...", spolu s několika dalšími hudebníky. Nějakým způsobem to připomíná Clive Nolana v 90. letech, když pro mnoho svých projektů použil stejné klíčové hudebníky (zejména pak Karl Groom a Ian Salmon). Třebaže album vznikalo ve východní Evropě kvůli mírně akcentovaným vokálům, z velké části se to opravdu zdá jako velmi britské album. Camel a Pink Floyd jsou i zde zřejmé vlivy, např. skladba "The Division and Illusion of Time", zatímco "Grail And Time" není nic jiného než Be-Bop Deluxe z éry "Sunburst Finish". Od začátku do konce se jedná o úžasné album, které připadá velmi moderně, ale se spoustou pohledů zpět do 70. let rozkvětu prog rocku.

Antony Kalugin chrlí ve svém studiu jedno album za druhým a jejich kvalita přitom moc neklesá. Ukrajina v jeho osobě získala vynikajícího prog-rockového skladatele a interpreta, který se může rovnat nebo i konkurovat některým světovým umělcům na poli progresívního rocku. Ke svým hudebním výletů si pozve vždy pečlivě zvolenou skupinu hostujících hudebníků a zpěváků, se kterými spolupracuje již delší dobu, a to doslova ve všech jeho projektech. Proto si mohl dovolit koncertovat i na dvojkoncertech Kargagen/Sunchild, Sunchild/Hoggwash i trojkoncertech Kargagen/Sunchild/Hoggwash, jak dokazují jeho vydané živé záznamy.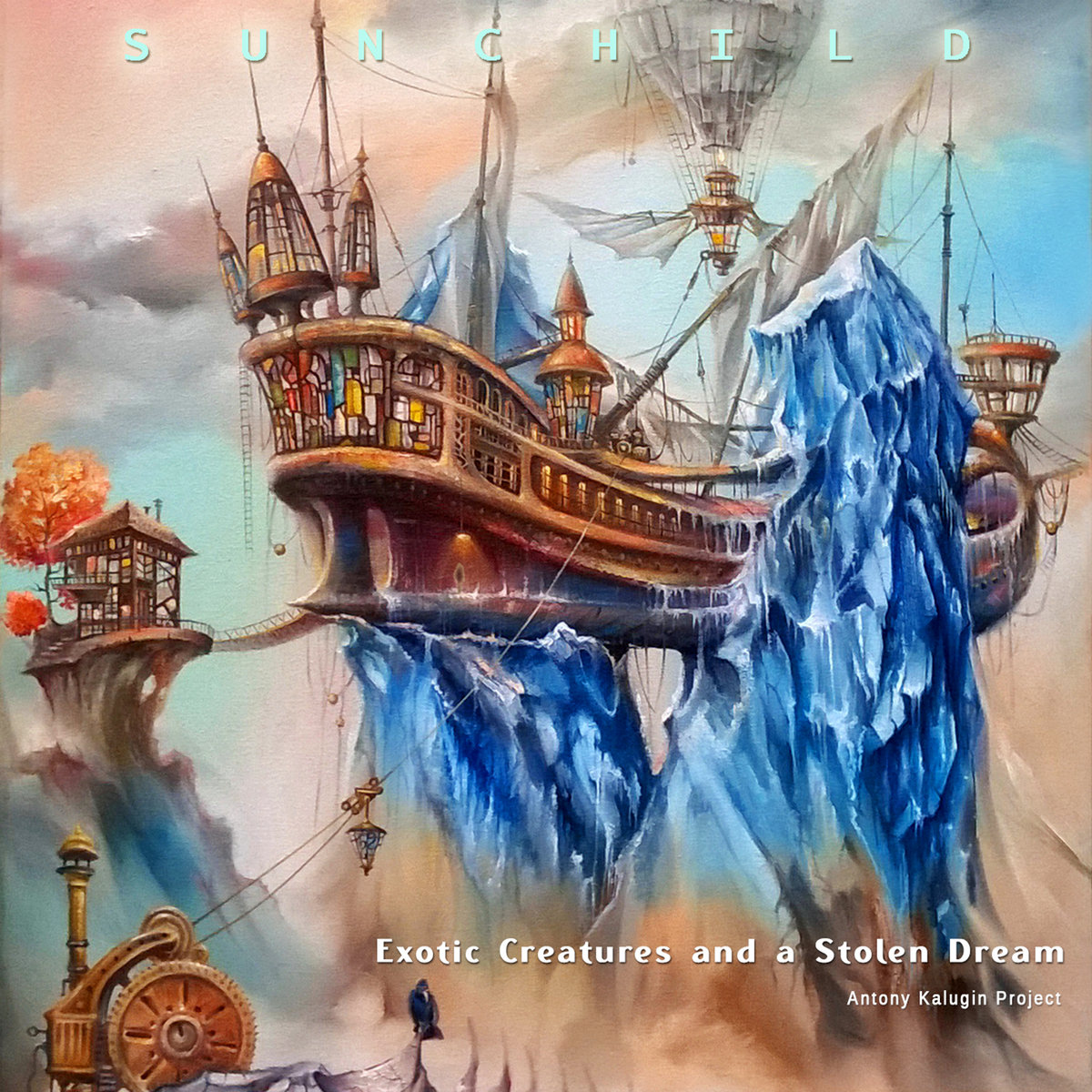 Po téměř čtyřech letech přípravy se Antony vrací s novým albem "Exotic Creatures And A Stolen Dream" se dvěma monstrózními progresivními skladbami, které nám tolik připomínají rozkvět prog hudby, která proplétá svou síť z jedné hudební sekce do druhé a zase plynule zpět s melodiemi a pasážemi, které trhají srdce. Album vychází 9. ledna 2023 u Caerllysi Music. Jako vždy Antony povolal svou mocnou malou armádu špičkových hudebníků, která zahrnuje tři velmi odlišné stylové hlavní kytaristy, maximalizující barvy hudby a zvuku, který je Sunchild charakteristický. Přebal je dodáván jako lesklý digipak se dvěma velkými plnobarevnými plakáty a také booklet s uměleckými díly od talentovaného umělce Igora Sokolského.

"Life Lines" za delší více než 26 minut uběhne tak rychle, že je to téměř iluze v čase a bude silným kandidátem na nejlepší prog skladbu roku 2023, druhá epická "Northern Lights" bude po desetiletí pódiovou hymnou. Kalugin je jevištní mistr a podmaňoval si v posledních měsících publikum v celé západní Evropě a tato nejnovější skladba bude od nynějška určitě na jeho koncertním seznamu.


Skupina:
Antony Kalugin - Keyboards, Vocals, Percussion
Hosté:
Maria Panasenko - Lead & Backing Vocals
Olha Rostovska - Backing Vocals
Ivan Goritski - Drums
Alexandr Pavlov - Electric, Acoustic & Nylon Guitars (01)
Max Velychko - Electric Guitars (02)
Konstantin Ionenko - Bass Guitar and Double Bass
Yan Vedaman - Soprano Saxophone
Sergii Kovalov - Accordion (01)
Dmytro Ignatov - Electric Guitar Solos (01 part e,g)

Exotic Creatures And A Stolen Dream
Vyšlo 9. ledna 2023, Caerllysi Music, CM23030 (UK)

Seznam skladeb:
01. Life Lines (26:26)
a. Timeless Motion
b. Wings Of The Storm
c. The New Day Dawning
d. In The Garden Of Hope
e. Beautiful Creatures
f. Crimson Queen
g. The Tide
02. Northern Skies (14:14)
a. Only In Wildest Dreams
b. In The Valley Of A Stolen Dream
c. Haunted Visions
d. Under The Northern Skies
Bonus tracks
03. Timeless Motion Reprise (1:24)
04. Northern Lights (3:07)
05. Northern Skies (Single Edition) (4:51)
06. Life Lines (Single Edition) (7:07)
Total Time: (57:09)

Recorded in 2018-2022
Composed, Arranged, Mixed & Mastered: Antony Kalugin
Lyrics: Antony Kalugin & William Mackie
Produced: Antony Kalugin & William Mackie
Artwork Design & Concept: Antony Kalugin
Original Paintings: Igor Sokolskiy


Skupina:
Antony Kalugin - Keyboards, Vocals, Percussion
Hosté:
Viktoriia Osmachko - Lead and Backing Vocals
Nikita Osmachko - Lead and Backing Vocals
Olha Rostovska - Backing Vocals
Max Velychko - Acoustic & Electric Guitars
Oleg Prokhorov - Bass
Kostya Shepelenko - Drums
Sergiy Balalayev - Drums (08)
Maria Baranovska - Violin (08)
Roman Gorielov - Acoustic Guitar (08)

Messages From Afar - The Division And Illusion Of Time
Vyšlo 1. července 2018, Caerllysi Music (UK)

Seznam skladeb:
01. Searching Diamonds (4:44)
02. Grail And Time (8:00)
03. 60 Degrees To The 70s (6:47)
04. Mystery Train (3:49)
05. Dreams From A Lonely Town (2:17)
06. The Division And Illusion Of Time (7:36)
07. Victory Voyager (20:33)
08. Father (10:34)
Total Time: (64:20)

Recorded in Kharkiv (Ukraine) 2017-2018
Composer, Arranger, Co-producer and Mastered: Antony Kalugin
Lyrics: Antony Kalugin & William Mackie
Produced: Antony Kalugin & William Mackie
Artwork design & Concept: Antony Kalugin
Original Paintings: Igor Sokolskiy


Skupina:
Antony Kalugin - Keyboards, Backing Vocals, Programming
Ivan Kondratov - Bass
John Sleeper - Lead & Backing Vocals, Percussion
Sylvain Auclair - Lead Vocals (09)
Olga Rostovskaya - Backing Vocals
Andrey Kobylyanskiy - Electric & Acoustic Guitars
Sergiy Balalayev - Drums, Tambourine, Percussion
Hosté:
Sylvain Auclair - Lead Vocals (09)

Synesthesia
Vyšlo 15. května 2015, Caerllysi Music, CM 15015 (UK)

Seznam skladeb:
01. Synesthesia (6:00)
02. The Chosen One (5:14)
03. Outer Space (4:22)
04. Space Out (part 1) (1:11)
05. Glimpse of Love (4:30)
06. You're Near (0:59)
07. Breath (3:39)
08. V'uga (Blizzard) (2:48)
09. The Reason Why (4:38)
10. Follow Your Heart (8:01)
11. Space Out (part 2) (3:33)
12. Space Out (part 3) (2:09)
Total Time: (47:04)

Composer & co-producer: Antony Kalugin
Produced: Antony Kalugin & William Mackie


Skupina:
Antony Kalugin - Keyboards, Vocals, Programming, Percussion
Hosté:
Sergey Kovalov - Backing Vocals (01-03,09)
Roman Gorielov - Acoustic Guitars, Backing Vocals (01-05,07,09)
Bon Virage (Mark Kalugin, Liza Zatsepylina, Demid Krikun, Anya Naumova, Bogdan Chaliy) - Childs Vocal Band (02,09)
Oleg Prokhorov - Bass (01-05,07,09)
Sergiy Balalayev - Drums (01-05,07,09)
Max Velichko - Electric Guitars (04)
Alexandr Pavlov - Electric Guitars (03,05,07-09)
Andrey Kobylyanskiy - Electric Guitars (01,02,05,07,09)
Viktoriia Osmachko - Lead & Backing Vocals (01-05,08,09)
Zhenya Lenkov - Lead & Backing Vocals (02-05,07,09)

Isolation
Vyšlo 20. května 2012, Caerllysi Music, CM 12009 (UK)

Seznam skladeb:
01. No Name Town (4:01)
02. Shall We Run (4:23)
03. 64 (4:36)
04. The Great Me (5:53)
05. Berlin & Leningrad (10:06)
06. Isolation (part 1) (1:18)
07. Isolation (part 2) (10:02)
08. Isolation (part 3) (5:01)
09. Isolation (part 4) (10:43)
Total Time: (56:03)

Written: Antony Kalugin
Composer & co-producer: Antony Kalugin
Produced: Antony Kalugin & William Mackie
Design: Antony Kalugin


Skupina:
Antony Kalugin - Vocals, Keyboards, Acoustic Guitars, Percussion
Hosté:
Olya Chernova - Vocals
Victoria Osmachko - Vocals
Andrey Kobylyanskiy - Electric, Acoustic & Nylon Guitars
Roberto Diaz - Electric Guitar (01)
Sergey Kovalev - Accordion (Bayan), Vocals, fx
Vasiliy Ivanov - Flute (07,08)
Misha Sidorenko - Alto Sax (01,04,06)
Helen Bour - Oboe (01-07)
Alexandr Pastukhov - Basson (01,05,07)
Max Morozov - Viola (01-03,05,07-09)
Daria Maiourova - Violin (01,02,05,07-09)
Oksana Podmaryova - Cello (01,04,05,07,09)
Oleg Prokhorov - Bass
Vanya Rubanchyuk - Drums
Vadim Samosyuk - Drums (05)

As Far As The Eye Can See
Vyšlo 12. srpna 2011, Caerllysi Music, CM11007 (UK)

Seznam skladeb:
01. Stars Of Cardiff Bay (15:25)
02. Ring Of Eternity (6:38)
03. Seven Kings (5:19)
04. Mirrors (4:56)
05. Gordian Knot (4:51)
06. Rising (4:51)
07. March Of Fate (6:27)
08. Visionary Sights (6:18)
09. As Far As The Eye Can See (7:45)
Total Time: (63:02)

Produced: Antony Kalugin & William Mackie
Mixed & Mastered: Antony Kalugin
Artwork: Roman Gorielow (photo) with A. Kalugin (design) and Andrew Burda


Skupina:
Antony Kalugin - Keyboards, Vocals, Percussion
Maxim Velichko - Electric Guitar
Sergey Balalaev - Drums
Kostya Ionenko - Bass
Sergey Kovalev - Bayan, Vocals
Roman Gorelov - Acoustic Guitar, Backing Vocals
Hosté:
Helen Bour - Oboe (01,02)
Alexandr Pasukhov - Bassoon (01-03)
Daria Maiourova - Violin (03,06)
Max Morozov - Viola (3,6)
Oksana Podmaryova - Cello (03,06)

The Wrap
Vyšlo 1. listopadu 2010, Caerllysi Music, CM10006 (UK)

Seznam skladeb:
01. Day Of Destiny (4:06)
02. The Wrap (Intro) (5:16)
03. Under The Wrap (38:19)
04. An Angel (5:42)
05. Ilusionist (1:16)
06. The Wrap (Outro) (4:59)
Total Time: (59:38)

Composer & co/producer: Antony Kalugin
Artwork: Antony Kalugin


Skupina:
Antony Kalugin - Keyboards, Vocals, Tambourine, Shaker, Rainstick, Triangles
Hosté:
Olya Kaganyuk - Vocals, Choir, Backing Vocals
Roman Gorelov - Acoustic & Electric Guitars
Alexey Khorolskiy - Electric Guitars
Bogdan Gembik - Electric Guitars
Artem Vasylchenko - Tenor Saxophone
Dmitriy Bondarev - Trumpet, Flugelhorn
Yulya Bilchuk - Bandura
Sergey Kovalev - Bayan, Vocals
Helen Bour - Oboe
Alexander Pastuchov - Basson
Lesya Kofanova - Penny Flute
Kostya lonenko - Bass, Acoustic Fretless Bass
Sergey Balalaev - Drums, Percussion, Tambourine
Victoria Partincho - Vocals, Shaker, Backing Vocals

The Invisible Line
Vyšlo 1. března 2009, CD Caerllysi Music, CM09003 (UK)

Seznam skladeb:
01. Postcards From The Past (pt1) (1:40)
02. The Invisible Line (pt1) (6:22)
03. Raindrops (6:29)
04. Amalgama (5:08)
05. A Moment In Time (5:13)
06. Time & The Tide (11:20)
07. Fading Light (3:31)
08. Recolections (1:33)
09. Line In The Sand (14:36)
10. Postcards From The Past (pt2) (5:20)
11. The Invisible Line (pt2) (8:21)
Total Time: (69:33)

Composer & co/producer: Antony Kalugin
Producer, Composed, Mixed, Mastered: Antony Kalugin
Producer: William Mackie
Artwork: Antony Kalugin and Roman Gorelov


Skupina:
Antony Kalugin - Keyboards, Programming, Lead & Backing Vocals, Acoustic Guitars (08)
Hosté:
Viktoria Osmachko - Vocals (03,07-09)
Timophey Sobolev - Vocals (04,09)
Vlad Annenkov - Electric Guitars (02-07,09)
Alexey Khorolskiy - Electric Guitars (02-05,09)
Roman Goloborda - Electric Guitars (01-04,07)
Roman Gorelov - Acoustic (02,03,08,09) & Electric (08) Guitars
Roman Philonenko - Acoustic Guitars (03,04,09)
Sergey Kovalev - Bayan (02,03,09), Vocals (03,08), Harmonica (08)
Oksana Podmarova - Cello (02,03,06-09)
Helen Bour - Oboe (03,07-09)
Roman Vinskovskiy - Sax (02,03,07)
Dmitry Bondarev - Trumpet (02-04,07)
Timophey Brahin - Trombone (02-04,07)
Lesya Kofanova - Flute (01-03,06)
Yuri Nemirovsky - Clarinet (05)
Kostya Ionenko - Bass (02-09)
Sergey Balalaev - Drums (02-09)

The Gnomon
2CD, vyšlo 21./28 března 2008, Caerllysi Music, CM08002 (UK)

Seznam skladeb:
CD 1 (48:08):
01. The Gnomon (2:05)
02. Astoria (9:59)
03. Sleepwalker (26:59)
04. The Prayer Of The Broken Heart (6:14)
05. Adrift (2:51)
CD 2 (47:58):
06. Love Will Shine Like Gold (5:27)
07. Sunchild (16:06)
08. Midnight Train (5:39)
09. Wonderworld (20:46)
10. Sunchild (singl edit version 2011) (9:32)
11. Astoria (demo version 2007) (8:32)
12. Sunchild (fragm version 2006) (6:01)
Total Time: (96:06)

Composer & Co/producer: Antony Kalugin

1st Sunchild album (double cd) released in March 2008 limited edition
Rare - Live footage from Germany - Astoria (live)


Skupina:
Antony Kalugin - Keyboards, Vocals
Andrew Kobilianskiy - Guitars
Sergey Balalayev - Drums
Viktoriia Osmachko - Vocals, Percussion
Oleg Prokhorov - Bass
Sergii Kovalov - Bayan, Harmonica, Vocals
Hosté:

Sunchild with Karfagen and Hoggwash: Live In France 2012
Vyšlo 18. června 2015, Digital

Seznam skladeb:
01. Karfagen - A Winter Tale (11:40)
02. Sunchild - Rain Drops (6:25)
03. Karfagen - Ode to a New Life (6:00)
04. Hoggwash - Another Friday Night (8:05)
05. Sunchild - The Invisible Line (Pt 1) (6:26)
06. Sunchild - Midnight Train (7:24)
07. Karfagen - Labyrinth (6:09)
08. Post Cards from the Past (Pt 2) (14:04)
09. Sunchild - Astoria (5:25)
10. Meddley (11:25)
11. Post Cards from the Past (Pt 2) (Different Stages) (14:19)
Total Time: (97:47)

Recorded live on Crescendo Fest 2012 August (Saint-Palais-Sur-Mer, France)


Skupina:
Antony Kalugin - Keysboards, Vocals
Hosté:
Andrew Kobilianskiy - Guitars
Sergey Balalayev - Drums
Viktoriia Osmachko - Vocals, Percussion
Oleg Prokhorov - Bass
Sergii Kovalov - Bayan, Harmonica, Vocals
Ivan Kondratov - Bass
Olga Rostovskaya - Backing Vocals
John Sleeper - Lead & backing vocals, percussion
Max Velichko - Electric & Acoustic Guitars
Ivan Rubanchyuk - Drums
Anatoliy Shmargun - All Sorts of Percussion
Sergiy Obolonkov - Backing Vocals (02,03) and Lead Vocals (10)

Sunchild & Hoggwash: Gnomology
Vyšlo 10. června 2015, Digital

Seznam skladeb:
01. Shall We Run? (4:22)
02. Outer Space (4:20)
03. Let The Lady Smile (5:10)
04. Mirrors (4:55)
05. Another Game (4:43)
06. The Invisible Line (Live) (6:19)
07. Day Of Destiny (4:04)
08. The Reason Why (4:35)
09. 64 (4:25)
10. The Ring Of Eternity (5:50)
11. Glimpse Of Love (4:28)
12. Rain Drops (6:22)
13. Follow Your Heart (7:27)
14. Stars Of Cardiff Bay (fragm) (5:30)
15. Midnight Train (5:38)
16. As Far as the Eye Can See (7:46)
17. Close To Heaven (Bonus) (2:43)
Total Time: (88:37)


Kompilace hitů z alb Sunchild a Hoggwash. Obsahuje i živou verzi "Invisible Line" z 8. srpna 2012, Charkov, Ukrajina.


Skupina:
Antony Kalugin - Keyboards, Backing Vocals, Programming, Music
John Sleeper - Lead and Background Vocals, Lyrics
Andrey Kobylyanskiy / Electric & Acoustic Guitars
Sergiy Balalayev - Drums & Percussion
Ivan Kondratov - Bass
Hosté:

Glimpse Of Love
SP, vyšlo 12. května 2015, Caerllysi Music, Digital

Seznam skladeb:
01. Glimpse Of Love (4:29)
Total Time: (4:29)



Skupina:
Antony Kalugin - Keyboards, Backing Vocals, Programming, Music
John Sleeper - Lead and Background Vocals, Lyrics
Andrey Kobylyanskiy / Electric & Acoustic Guitars
Sergiy Balalayev - Drums & Percussion
Ivan Kondratov - Bass
Hosté:

Outer Space
SP, vyšlo 1. května 2015, Caerllysi Music, Digital

Seznam skladeb:
01. Outer Space (4:22)
Total Time: (4:22)