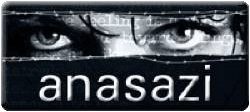 ANASAZI je progressive-metalová kapela pocházející z města Grenoble, Francie, kde vznikla v roce 2003. Podle slov zakladatele kapely Mathieu Madaniho "příběh ANASAZI se začal toho dne, kdy uviděl poslední epizodu "'X-files", 2. série. To bylo v roce 1995, věřím, že tato epizoda byla nazvána "anasazi", což znamenalo ve starém navajském jazyce: "starověké".

ANASAZI vznikla po setkání Madaniho a Frederica Théveneta v říjnu 2003. Když Madani skončil kytarové lekce Thevenetova syna, oba hudebníci uchopili své nástroje a zahrali si společně jako dříve. V únoru 2004 se Fred zeptal Mathieua, zda by s ním nevytvořit dvě písně pro své narozeniny v květnu. Okamžitě začali spolupracovat při skládání písni "My Lost World" a "Shattered" a s prvními náznaky toho, z čeho se vyvinulo "Innocence Ending". V té době Madine navrhl Thevenetovi, aby vytvořili koncepční píseň, příběh, který by pokračoval v několika písních. A tak se zrodila skladba "At The End Of My New World (Part I)". Skladby byly dokončeny do 23. května a následně nahrány. "Všechno jen tak pro zábavu, bez jakéhokoli další motivace."

Na konci května vypálilii Madani a Thevenet deset CD, které chtěli distribuovat okruhu svých přátel. Madine při té příležitosti vytvořil i malý doprovodný text s brožurkou. Tváří v tvář velkému nadšení z našich posluchačů se rozhodli, že dají k dispozici ještě více než 100 dalších CD a zpětná vazba byla opět pozitivní. "Lidé, kteří znali hudbu [ANASAZI] se snadno uchytili do jejich malého vesmíru a ti, kteří objevili progresivní metal, byli uneseni emocemi."

Počátkem roku 2005 Madani a Thevenet řešili otázku nového alba. Tentokrát bylo rozhodnuto, že se nebude jednat o koncepční skladbu, ale skutečné písňové album. Později ANASAZI zvěřejnili na internetu "The Principles Of Hate". Při nahrávání tototo alba se připojil ke skupině Christophe Blanc-Tailleur jako baskytarista a přinesl s sebou hudbu přes počítač se všechmi jejími možnostmi. f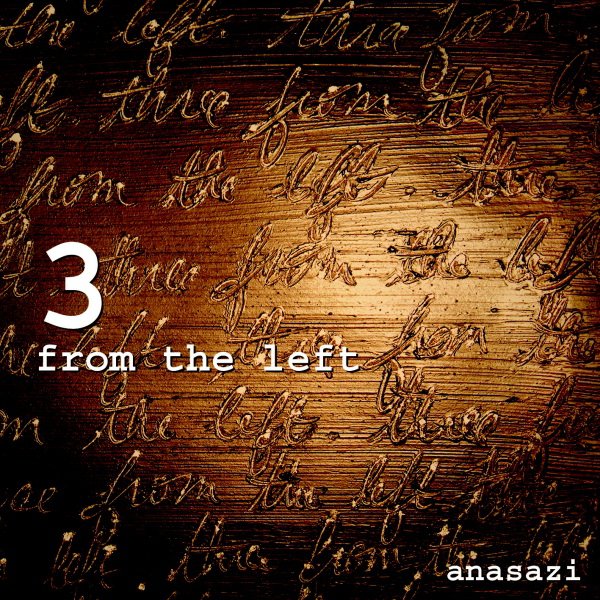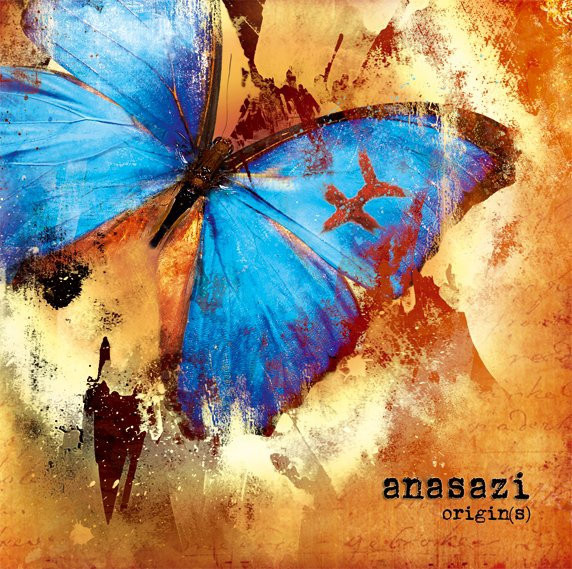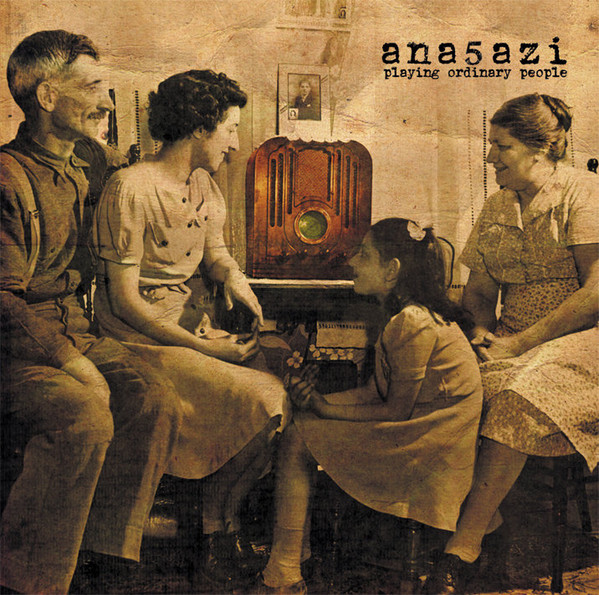 Od té doby ANASAZI vydali další dvě alba "3 From The Left" v roce 2007 a "Origin(s)" v roce 2008. ANASAZI hrají velmi unikátní směs progresivního rocku a metalu se silnými popovými vlivy. Mezi své vlivy uvadějí kapely Tool, Pantera, Porcupine Tree, Dream Theater, Anathema, Spock's Beard, Genesis, The Beatles, Megadeth, Ark, U2, Metallica nebo Petera Gabriela.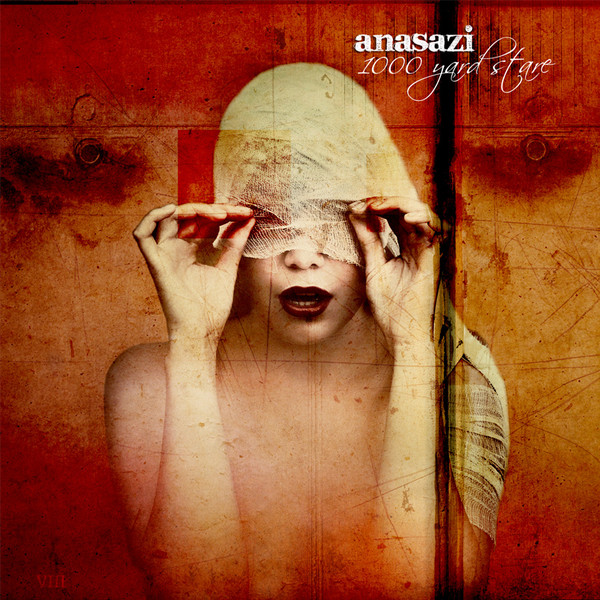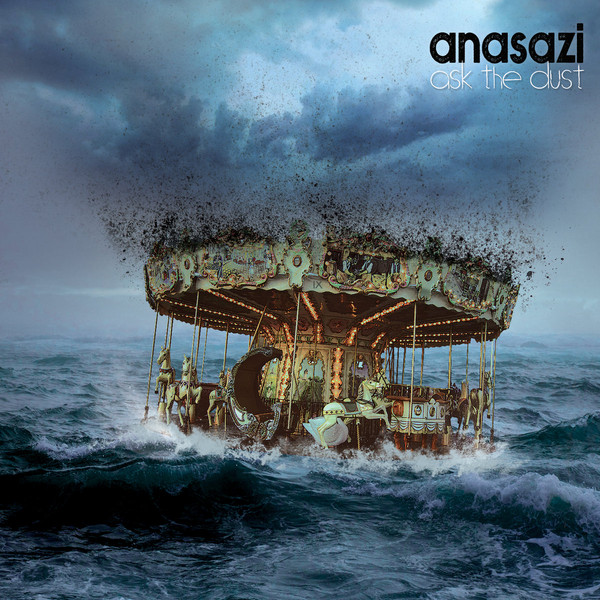 Právě dokončili nahrávání a mixování svého zcela nového záznamu "1000 yard stare", který obsahuje celkem 13 písní. "1000 yard stare" vyšlo dne 31. března 2014 v digitálním a CD.

V nové sestavě skupiny Mathieu Madani (vokály / kytara), Bruno Saget (kytara), Christophe Blanc-Tailleur (basa) a Anthony Barruel (bubny) pracují od konce roku 2015 na vytvoření nového alba. Nejnovější již avizovaná deska kapely s názvem vyšla 28. května 2018. Po několika koncertech na podporu předchozích alb jsou Anasazi zpátky na pódiu, aby představili fanouškům "Ask The Dust" tento nový projekt.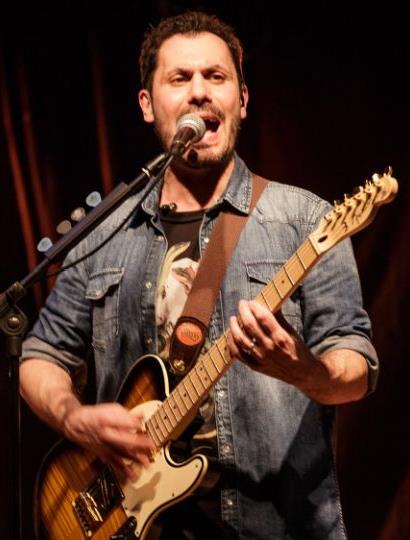 Mathieu "Sculler" Madani
Vocals, Guitar, Keyboard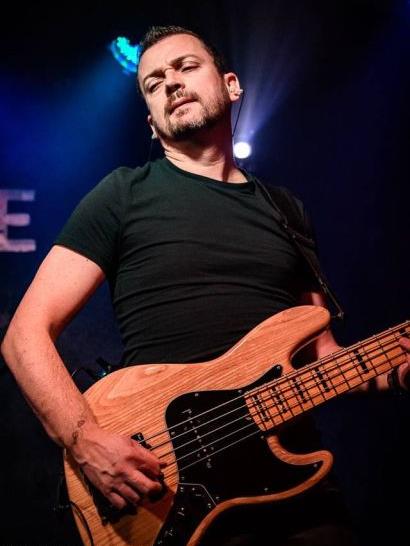 Christophe Blanc-Tailleur
(také jako Low Pass Filter)
Bass

Studoval na škole Université Pierre-Mendes, Grenoble, Francie, kterou ukončil v roce 1996.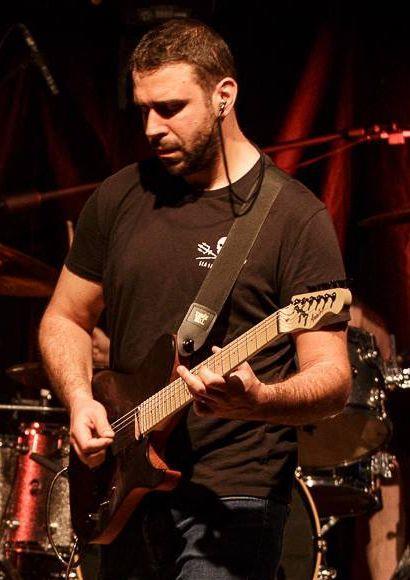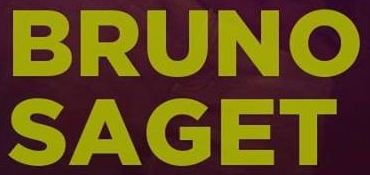 Lead Guitar

Žil v Valenciennes, nyní žije v Grenoble. Bruno je kytarista působící ve více kapelách, a to Croak, Theintrinsicjourney, Blackdust a Anasazi.

Studoval na škole ICH, předtím v Lycée Gaston Bachelard.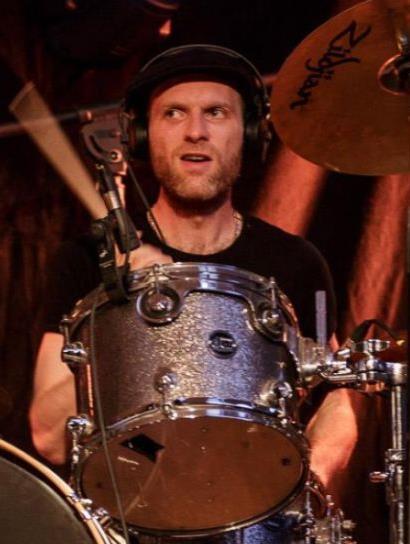 Anthony Barruel
Drums

Pracuje také pro Collapse.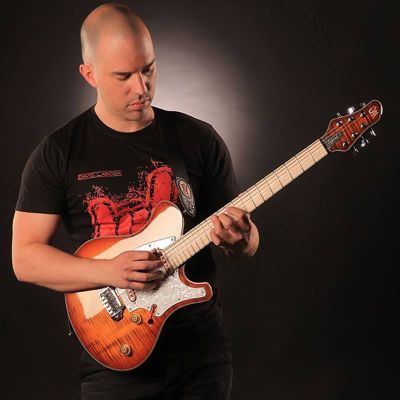 Guitars

Seb je francouzský kytarista a člen kapely Anasazi. Pracuje také jako vyučující hry na kytaru. Kromě kapely ANASAZI působil/působí také ve skupinách Croak, The Electric Barock Quartet nebo Amon-Sethis.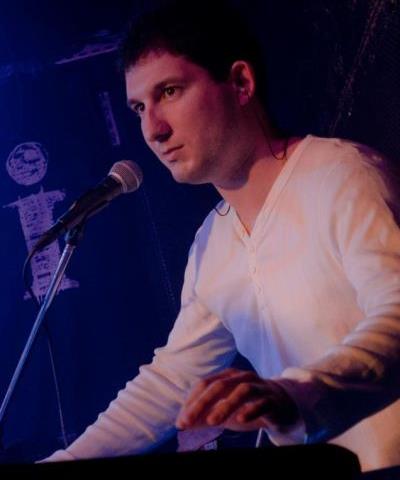 Benjamin Dupre
Piano, Keyboards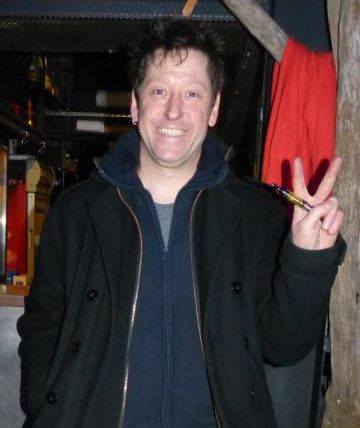 Jean Rosset
Drums

Skupina:
Mathieu Madani - Lead Vocals, Electric Guitar, Acoustic Guitar, Keyboards
Christophe Blanc-Tailleur - Bass
Anthony Barruel - Drums
Bruno Saget - Lead Guitar
Hosté:
Julie Barruel - Backing Vocals (04,06,09)

Ask The Dust
Vyšlo 31. května 2018, Self-released

Seznam skladeb:
01. Staring At The Sun (M+L: Anthony Barruel, Bruno Saget, Mathieu Madani) (5:38)
02. Miles Away (M: Anthony Barruel, Bruno Saget/M+L: Mathieu Madani) (4:08)
03. Feeling Nothing (M+L: Anthony Barruel, Bruno Saget, Mathieu Madani) (6:23)
04. Drift Away (M+L: Mathieu Madani) (5:08)
05. Falling (M+L: Mathieu Madani) (4:26)
06. The Second Before (M+L: Mathieu Madani) (4:36)
07. Still I Can't Hide (M+L: Anthony Barruel, Bruno Saget, Mathieu Madani) (6:38)
08. And The Grudge (Still Here) (M+L: Anthony Barruel, Bruno Saget, Mathieu Madani) (8:18)
09. Into The Flood (M+L: Mathieu Madani) (5:50)
10. Once Dead (M: Mathieu Madani) (6:52)
11. Ask The Dust (M+L: Mathieu Madani) (5:32)
Total Time (69:22)

Recorded at Prog Sweet Prog Studio V and Funky Flower Studio
Producer, Arranged: Mathieu Madani
Mixed: Christophe Blanc-Tailleur
Mastered: Anthony Murciano
Artwork, Cover: Grégory Migeon
M = Music, L = Lyrics, M+L = Music+Lyrics


Skupina:
Mathieu Madani - Electric Guitar, Acoustic Guitar, Keyboards, Voice
Christophe Blanc-Tailleur - Bass
Jean Rosset - Drums
Benjamin Dupré - Keyboards
Sebastien Garsia - Guitars
Hosté:

1000 Yard Stare
Vyšlo 31. března 2014, Self-released

Seznam skladeb:
01. Morning Overture (0:22)
02. Drop Dead Silence (5:57)
03. Ordinary Man (6:56)
04. Under (5:15)
05. One More Time (5:05)
06. Legacy Of Fools (5:07)
07. Water's Edge (5:24)
08. 1000 Yard Stare (L [Spoken Words]: Ernest Hemingway) (10:09)
09. Then (4:20)
10. Underneath The Dirt (6:22)
11. The River (5:50)
12. Runaway (7:54)
13. Mother (4:54)
Total Time: (55:11)

Recorded at Prog Sweet Prog Studio IV and Funky Flowers Studio Mastering
Lyrics: Mathieu Madani
Music: Mathieu Madani
Producer: Christophe Blanc-Tailleur, Mathieu Madani
Mastered: Olivier Valcarcel
Mixed: Christophe Blanc-Tailleur
Artwork: Grégory Migeon




Skupina:
Mathieu Madani - Vocals, Guitars, Additional Keyboards
Christophe Blanc-Tailleur - Bass
Romain Bouqueau - Keyboards
Hosté:
Christophe Letizia - Drums
Delphine Polet - Background Vocals
Sebastien Garsia - Guitar solo (05)
Laure Bottinelli - Spoken Voices

Playing Ordinary People
Vyšlo 11. dubna 2011, Self-released

Seznam skladeb:
01. Welcome To The Show (1:14)
02. Jeopardize (6:05)
03. What's Left Behind (5:26)
04. Something Happened (5:25)
05. This Ain't Over (6:39)
06. Shine A Light (8:01)
07. Something's Wrong (4:22)
08. Stranger To Myself (5:51)
09. And (5:40)
10. Silently (6:41)
11. Shame (0:22)
12. What If ... (15:45)
Total Time (71:31)

Produced: Anasazi 2011
Music: Madani and Anasazi
Recorded at "Prog Sweet Prog" studio III and Funky Flower studio
Mixed: Blanc-Tailleur and Anasazi
Masterd: Brett Caldas-Lima at Tower studio


Skupina:
Mathieu Madani - Guitars, E-Bow, Piano, Keyboards, Drum Programming
Christophe Blanc-Tailleur - Bass, Keyboards and Computer Programming
Romain Bouqueau - Keyboards, Background Vocals
Hosté:

Origin(s)
Vyšlo 28. září 2008, Self-released

Seznam skladeb:
01. Mr. Twilight (6:58)
02. Suffocate (5:54)
03. The Last Man (5:50)
04. The Shore (5:13)
05. Lucid Dream (7:42)
06. Justify (7:19)
07. Far, Beyond Hate (5:13)
08. Hive Mind (5:50)
09. Nobody's Listening (5:12)
10. Sleep (5:14)
Total Time: (60:25)

Produced: Mathieu Madani
Mixed: Anasazi

Instrumentální verze skladeb z alba "Origin(s)".


Skupina:
Mathieu Madani - Voice, Guitar, Keyboards, Drum Programming
Christophe Blanc-Tailleur - Bass
Romain Bouqueau - Keyboards, Backing Vocals
Hosté:

Origin(s)
Vyšlo 28. září 2008,

Seznam skladeb:
01. Mr Twilight (6:58)
02. Suffocate (5:54)
03. The Last Man (5:49)
04. The Shore (5:13)
05. Lucid Dream (7:42)
06. Justify (7:19)
07. Far, Beyond Hate (5:13)
08. Hive Mind (5:50)
09. Nobody's Listening (5:12)
10. Sleep (5:14)
Total Time: (78:24)

Recorded at Prog Sweet Prog Studio III and Funky Flowers Studio Mastering
Arranged: Anasazi
Producer: Anasazi
Mixed: Anasazi, Christophe Blanc-Tailleur
Mastered: Brett Caldas-Lima at Tower Studio
Art Direction - Grégory Migeon
Artwork: Grégory Migeon


Skupina:
Mathieu Madani - Guitars, Vocals, E-Bow, Piano, Keyboards, Drum Programming
Christophe Blanc-Tailleur - Bass, Keyboards and Computer Programming
Frederic Thevenet - Guitars
Hosté:

The Principles of [Hate]
Vyšlo 2006,

Seznam skladeb:
01. Dies Irae (2:42)
02. Crossroads (3:20)
03. The Principles of [Hate] (10;23)
04. Lost (9;54)
05. Omayra's Song (5:24)
06. Someday... (8:22)
07. Far, Beyond Faith (7:56)
08. Quicksands of Time (7:54)
09. Same Old Song, Same Old Tears
(at the End of my New World part II) (9:07)
Total Time: (65:02)

Produced: Mathieu Madani
Mixed: Anasazi


Skupina:
Mathieu Madani - Guitars, Vocals, Piano, Keyboards
Christophe Blanc-Tailleur - Bass
Sebastien Garsia - Guitars
Jean Rosset - Drums
Benjamin Dupre - Piano, Keyboards
Hosté:
Delphine Pollet - Voices (01)
Anna Tabailloux - Spoken Voice (02)

Here Lies The Forgotten
EP, vyšlo 25. prosince 2012,

Seznam skladeb:
01. Dream Away (featuring Delphine Polet) (5:30)
02. Far, Beyond Tears (5:29)
03. The Forgotten (6:45)
Total Time: (17:38)

Produced: Anasazi
Music: Madani and Anasazi
Recorded at "Prog Sweet Prog" studio IV and Funky Flower studio in October 2012
Mixed: Blanc-Tailleur and Mathieu Madani in November 2012
Masterd: Brett Caldas-Lima at Tower studio in Montpellier in December 2012

Christmas acoustic digital EP


Skupina:
Mathieu Madani - Guitars, Vocals, Keyboards
Christophe Blanc-Tailleur - Bass
Romain Bouqueau - Keyboards
Hosté:
Christophe Letizia - Drums
Sebastien Garsia - Guitar Solo (01)

Another 6
EP, vyšlo 21. června 2012,

Seznam skladeb:
01. Anasazi - 10 Years (6:26)
02. Anasazi - The Field (Where I Died) (6:27)
03. Blame Me (6:43)
04. Anasazi - Breakdown Of A Generation (3:29)
05. Anasazi - Erotic Hell (4:43)
06. Anasazi - An Honest Man (6:01)
Total Time: (65:02)

Music: Madani and Anasazi
Produced: Mathieu Madani
Recorded at "Prog Sweet Prog" studio III and Funky Flower studio during the "Playing Ordinary People" recording sessions
Mixed: Blanc-Tailleur and Anasazi in 2012
Mastered: Brett Caldas-Lima at Tower studio in Montpellier in 2012

Digital EP with unreleased tracks from "playing ordinary people"


Skupina:
Mathieu Madani - Guitars, Vocals, Keyboards and Drum Programming
Christophe Blanc-Tailleur - Bass
Romain Bouqueau - Keyboards
Hosté:
Peggy Klein - Background Vocals (02)
Oliviet Valcarcel - Arrangements (03)

3 From The Left
EP, vyšlo 2007,

Seznam skladeb:
01. In My Time of Dying (7:06)
02. You, Miserable Time (6:26)
03. Fill The Void (4:38)
Total Time: (18:10)

Inadam songs 2007 - Ar-men Music 2007
Produced: Anasazi, Mathieu Madani
Mixed: Christophe Blanc-Tailleur and Anasazi
Recorded in "Prog Sweet Prog" studio III and "Funky Flowers" studio in 2006


Skupina:
Mathieu Madani - Guitars, Vocals, E-Bow, Bass, Keyboards, Bass and Drum Programming
Frederic Thevenet - Guitars
Hosté:

At The End Of My New World (Part I)
EP, vyšlo 2004, Independent

Seznam skladeb:
01. Overture: Welcome Home (1:37)
02. My Lost Word (4:48)
03. Shattered (1:22)
04. Innocence Ending (instrumental) (4:23)
05. Far, Beyond Love (7:03)
06. Reoverture: As Tears Go By (6:50)
07. Shattered World (1:49)
08. At The End Of My New World... To Be Continued (7:48)
Total Time: (35:40)

Mixed, Mastered, Produced: Anasazi
Recorded at "Prog Sweet Prog" studio